About J&L Flooring and Decor Centre
J & L Flooring is a family business with a knowledgeable staff who are passionate about flooring and customer service. Customers shop with us becuase they feel important to us, and we give expert advice with a great selection. We take pride in offering exceptional quality flooring services. Each staff member at J & L Flooring is well trained in the flooring and tile industry, and each job is taken with complete care and the up most quality of service and installation.
We take the time to go through the installation process and are going to take and offer our suggestions on the products you are about to buy. Any concerns or questions you have are answered before the job is started and afterwards. So whether your next project is a new wood floor, ceramic kitchen floor, bath tub, stairs, backsplash etc… we are the flooring and tile specialist to call.
We are involved with charity organizations, coach local sports teams, have been on on the Terry Fox committee for the last 9 years, and sit on the on the Board of Directors of the Chamber of Commerce.
J & L Flooring serves the Niagara Region; we are located near the Blue Line Dinner and GT French Paper.
Giacomo (Jack) Astorino

Giacomo has been a certified flooring specialist since 2000 and is dedicated to providing an ethical, qualitative based business that is in demand in the Niagara Region."   In 2001 J&L Flooring was established and has grew over the years and now has a retail location and has also expanded to Home Décor."
Barbara Dutchyn

Barbara began in the industry back in 1970 as an Artist, with clearly defined skills primarily in realism in pencil, pen, ink and water colour. Afterward this led her in to the Interior Design world where she took hand in many aspects of renovations from concept to demo, rough- in to finish.
One thing is for certain, Barbara has an innate eye for colour. She has served as a design consultant to many both commercial and residential clienteles. At J&L Flooring everyday Barbra wakes up enthusiastic about working with people to narrow things down and dig deep into the detective work of creating and designing beautiful rooms.
Stephanie Perreault
Stephanie is currently assisting clients within her business Feels like home interior design as well as providing educated customer service at J and L Flooring in Niagara Falls. She received her diploma of interior design in 2015 and has since provided customers and clients with honest and practical design ideas.
Stephanie first became involved with J and L flooring as a consultant in 2017. As her interest grew in the flooring business she became part of the J and L flooring team aiming to continue her education of flooring and the business itself. As an interior designer and team member she has been able to contribute in offering quality customer service and is happy to be part of the business.
"Working alongside other professionals as one unit is what makes a business better and I believe this is the dynamics we have at J and L flooring."
welcome
Why choose us?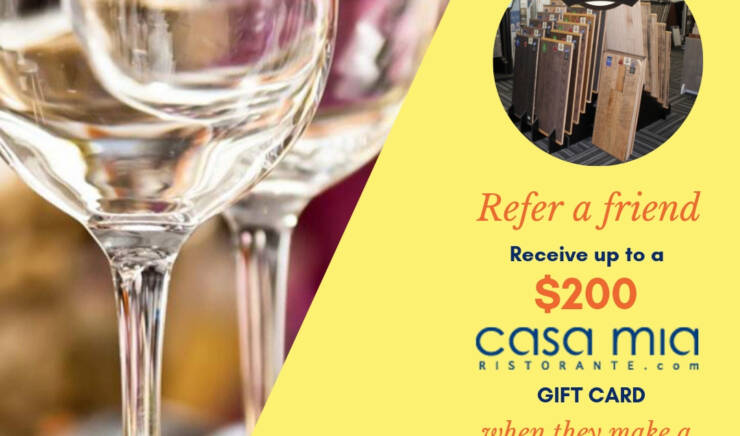 Refer a friend to J&L Flooring and receive up to a $200 Gift Card to Casa Mia Ristorante when they make a flooring purchase!
Floorte® uses high-definition printing for a hardwood or tile look that is highly authentic. Floorte's waterproof qualities make it ideal for high-moisture areas like basements, bathrooms, and mudrooms.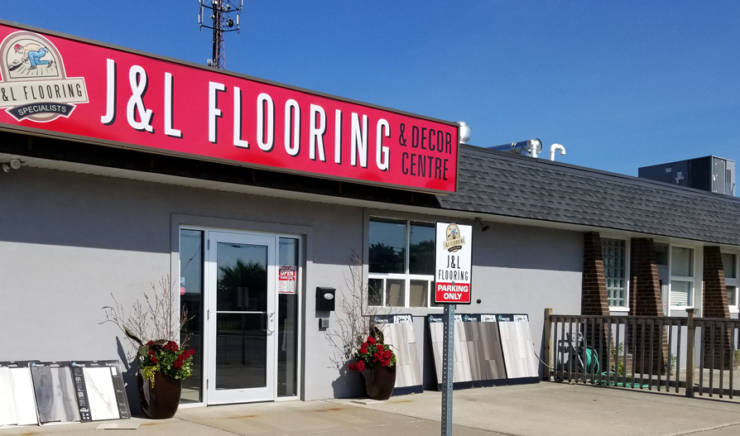 Located in the Niagara Region J & L Flooring takes pride in offering exceptional quality flooring services. So whether your next project is a new wood floor, ceramic kitchen floor, bath tub, stairs, backsplash etc… we are the flooring and tile specialist to call.
testimonilas
Customer Review
``I would recommend J&L Flooring to any home owner that wants quality work with friendly and professional service. In our experience, J&L Flooring came to our home a day after we moved in and installed hardwood floors in our living, dining and family rooms. They were quick, courteous, friendly and the work was top quality. It has been a year since it was installed and the job is as good today as it was on install day. Further, the job was clean; efficient and everything was cleaned and organized after the job was done. They answered all our questions and informed us on floor care. We are happy with our new floors and with our experience with J&L Flooring.``
We would like to say how pleased we are with the laminate flooring you installed. Jack and Mike answered all of our questions, were very courteous & took great pride in the work they were doing. We would recommend them to anyone interested in getting good quality work done.
Hi Jack,
Just wanted to drop you a line and thank you, Marco, and Chris for the professional job on our engineered hardwood flooring. It was great knowing we could go on vacation with confidence that our floors were going to look great when we got home. Thanks for the great service.